Swimming pool renovation and maintenance
Serving the entire Orihuela Costa, Costa Blanca Pool builds, renovates and maintains private and communal concrete pools as well as offering chemical products in its store since 2008. More than just a support for our customers we want to be the solution by striving every day to maintain high standards of quality, honesty and continuous improvement. We are committed to offer products and services of exceptional quality so that we provide our customers with that safe and reliable support in all areas that have to do with the optimal maintenance of your pool.
In Costa Blanca Pool we offer all the services you need to get your pool in Orihuela Costa or surroundings ready for the summer.
Our services are: construction, renovation, repair, equipment replacement and maintenance of private pools.
Construction
In Costa Blanca Pool we offer professional service for pool construction, from the design phase to the construction, we have the experience and the technical team to manage the project hand in hand with the client accompanied by our multidisciplinary team of gardeners and architects specialized in recreational areas.
Renewal
If your pool needs an upgrade, we will provide everything you need to make a renovation, repair or complete redesign from an old-fashioned style to a completely modern one. Using the best materials such as fossil rock, Palladian marble to modernize the crown of the pool in addition to having a current look and low maintenance that extends the life of the recreation area.
Repair
From grouting the pool shell to complete replacement of the tile that has been damaged by time, Costa Blanca Pool repairs structural damage using the best quality products with up to a 5 year warranty.
Repair and replacement of equipment
Our technical team is qualified to make a diagnosis and to propose in a professional way the changes, repairs and checks that are considered opportune of the different elements of the filtration system. Pressure pumps, filters, salt chlorinators, selector valves and the hydraulic system in general.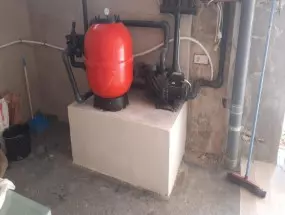 Private pool maintenance
We guarantee the pool maintenance service because we use the best products, as well as qualified personnel with the necessary knowledge.
Other Services
In our store you can find all the necessary chemical products to keep your pool in the perfect water balance. You will also find all the necessary items for the cleaning required for its good maintenance.
Chlorine granulate
Chlorine tablets
Chlorine granulate 25 kg.
Chlorine tablets 25 kg.
Chlorine liquid 20 It.
Multifunction granulate
Multifunction tablets
Ph minus liquid 5 It.
Ph
Ph+
Alkalinity
Flocculant tablets
Liquid flocculant
Anti-Algae
Pool salt 25 kg.
Salt compact 25 kg.
Sand fod filter 25 kg.
Crystal sand for filter 25 kg.
Spa Products
Rigid and polyethylene covers

Hydraulic system spare parts
We offer the service of special products upon request
Pumps
Filters
Salt chlorination systems
Heat pumps
Lighting system
At Costa Blanca Pool, customer safety comes first.
We always work with the objective of offering the best possible option to all our customers.
All our work and services are guaranteed
If you have any questions, you always know where to find us.
Gallery
At Costa Blanca Pool the client's safety comes first and we always work with the objective of offering the best possible option.